Please join us Monday Nov 16th 2020
For our meeting Monday Nov 16th 2020, we welcome Richard "Dick" A. Harpootlian, Managing Partner and SC State Senator.
Richard "Dick" Ara Harpootlian is one of South Carolina's leading courtroom advocates with 30 years of trial experience as a prosecutor, defense attorney, and civil litigator. Mr. Harpootlian's dynamic and persuasive advocacy style and record of success has earned him a reputation amongst South Carolina's legal community as a lawyer who can get results.
Mr. Harpootlian began his career as a prosecutor in the Fifth Circuit Solicitor's Office. Within two years, he was named Deputy Solicitor and tasked with the administration and supervision of over 20 prosecutors and staff members. As the Fifth Circuit's chief homicide prosecutor, Mr. Harpootlian personally prosecuted hundreds of murder cases, including 12 death penalty cases.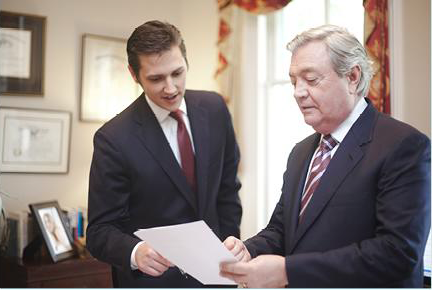 He defended one of those convictions on appeal before the United States Supreme Court. In 1983, Mr. Harpootlian earned a conviction in the prosecution of Donald "Pee Wee" Gaskins—South Carolina's most notorious serial killer. Mr. Gaskins was sentenced to death. In 1990, Mr. Harpootlian was elected as Fifth Circuit Solicitor, winning by a margin of almost 2-1. He served from 1991 until 1995. As Solicitor, he personally prosecuted and obtained convictions in a number of high-profile murder, drug, and public corruption cases. In 1991, Mr. Harpootlian prosecuted and convicted ex-University of South Carolina President Jim Holderman for public corruption charges arising from the abuse of his office for personal gain.
For the last 20 years, Mr. Harpootlian's private practice has earned him state and national recognition for his efforts on behalf of civil litigants and criminal defendants, including a number of multi-million dollar verdicts and settlements, some of which are listed here.
In addition to his law practice, Mr. Harpootlian has been active in South Carolina politics.  He was popularly elected and served on Richland County Council from 1986 to 1991. He served as Chairman of the South Carolina Democratic Party from 1998 to 2003 and again from 2011 to 2013. During his first tenure as Chair, the Party elected Governor James Hodges, the first candidate to unseat an incumbent South Carolina governor, and five other Democrats to statewide office. He currently sits as a Democratic member of the South Carolina Senate, representing the 20th Senate District since 2018. 
Mr. Harpootlian's views as a commentator on law and politics are regularly sought by national news programs. He has appeared on 60 Minutes, Good Morning America, ABC Nightly News, NBC Nightly News, Dateline NBC, and various CNN, MSNBC, CNBC, and Fox News broadcasts. He is also frequently quoted in local, state, and national publications, including the New York Times, the Washington Post, the Boston Globe, the Los Angeles Times, and TIME Magazine.
Mr. Harpootlian has been invited to share his experience with bar colleges as a lecture for the South Carolina Bar Association on topics including class action litigation and criminal defense. For the last 20 years, he has lectured newly barred South Carolina lawyers during the Bridge the Gap Program. He is a former chair of the Criminal Law Section of the South Carolina Bar Association and a past member of the South Carolina Bar Board of Grievance and Discipline. He has served on the South Carolina Chief Justice's Blue Ribbon Committee on Docketing and he is an adjunct professor at the University of South Carolina School of Law.